Thinking about throwing a Halloween party but don't know what to do with your garage? Worry no more! This blog post will give you some great ideas on how to decorate a garage for a halloween party. We've got you covered, from hanging spider webs to filling it with pumpkins. So get ready to have some fun and get your garage ready for some trick-or-treaters!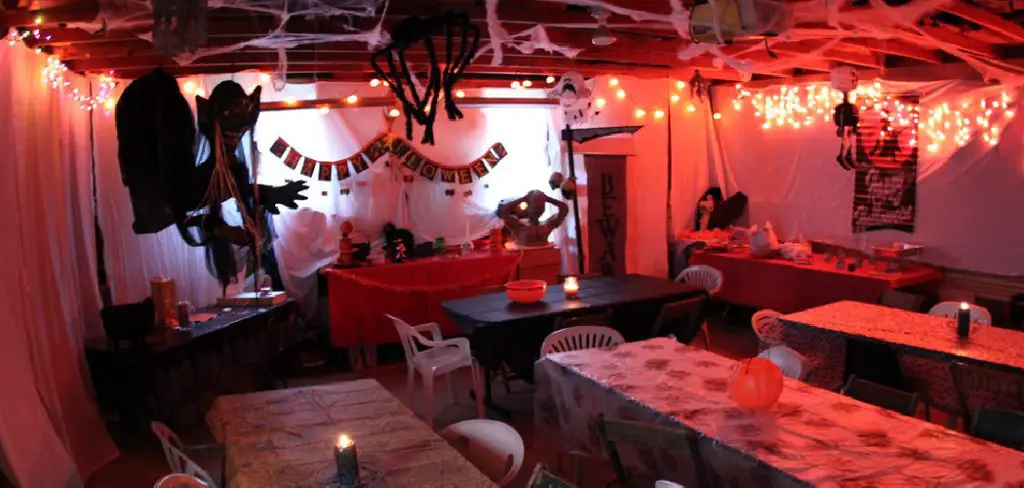 Summary: To decorate a garage for a Halloween party, start by covering the walls with black or orange streamers and adding spooky decorations like spider webs, skeletons, and eerie lighting. Hang bat cutouts from the ceiling and set up a creepy graveyard scene with tombstones and fog machines. Consider adding a haunted photo booth set up with spooky props and a backdrop for guests to take pictures.
What Is a Halloween Party?
A Halloween party is a celebration held on or around the 31st of October. The traditions of Halloween include dressing up in costumes, going door-to-door to collect candy, and decorating homes with jack-o-lanterns and another spooky décor. Halloween parties often feature games, food, and activities based on the holiday theme.
For example, guests might bob for apples or play charades while wearing their costumes. Halloween parties are a fun way to get into the season's spirit and celebrate with friends and family.
Why Should You Decorate a Garage for A Halloween Party?
A garage is a perfect place to throw a Halloween party. It's large enough to accommodate a crowd, and it's easy to decorate to create a spooky atmosphere. Plus, there's no need to worry about damaging any furniture or decorations – if something gets broken, it's no big deal. When it comes to decorations, more is more. Hang ghosts from the ceiling, drape spider webs in the corners, and cover the walls with creepy masks or posters.
You can even add special effects like fog machines or strobe lights to really set the scene. And of course, don't forget the music! A garage is perfect for cramming up the volume and dancing the night away. So if you're looking for a fun and festive way to celebrate Halloween, consider throwing a party in your garage. It'll be a night to remember!
9 Tips to Follow on How to Decorate a Garage for A Halloween Party
Step 1: Clear and Clean the Garage
Begin by clearing out and cleaning your garage to create a spacious area for the Halloween party. Remove any vehicles, tools, and unnecessary items to maximize available space. Sweep the floors, dust surfaces, and wipe down walls to ensure a clean environment for your guests.
Step 2: Plan the Layout
Determine the layout of your garage for the party, taking into account any furniture, decorations, and activity areas you want to include. Sketch a rough plan or use digital design software to visualize your ideas. Consider designating separate spaces for food and drinks, seating, dancing, and games or activities.
Step 3: Set Up Lighting
Create a spooky atmosphere by setting up dim, ambient lighting throughout the garage. Use string lights, LED candles, or battery-operated lanterns to create a dimly lit environment. Consider using colored bulbs, such as orange or purple, for an added Halloween touch. If possible, avoid using bright overhead lights, as they may detract from the eerie ambiance.
Step 4: Create a Haunted House Entrance
Transform the entrance of your garage into a haunted house or spooky pathway to set the tone for your party. Use black trash bags, fabric, or plastic sheeting to create walls or curtains, and add cobwebs, fake spiders, or hanging bats to enhance the creepy vibe. Consider using a fog machine or dry ice for an eerie fog effect.
Step 5: Decorate the Walls
Continue the Halloween theme by decorating the walls of your garage. Hang Halloween-themed posters, banners, or cutouts of ghosts, witches, and other spooky characters. Use black light-reactive posters or tapestries for an extra touch of visual interest. If you have access to a projector, display a loop of classic horror films or creepy imagery on one of the walls.
Step 6: Set Up Themed Tablescapes
Create Halloween-themed tablescapes for the food and drink stations. Use tablecloths in traditional Halloween colors, such as black, orange, or purple, and incorporate themed decorations like skulls, pumpkins, or spiders. Display food and drinks in creative ways, such as using a hollowed-out pumpkin as a punch bowl or serving snacks in plastic cauldrons.
Step 7: Arrange Spooky Seating
Provide seating for guests that matches the Halloween theme. Cover chairs with black or dark-colored fabric and add throw pillows featuring Halloween motifs. Arrange hay bales as rustic seating options and drape them with creepy cloth or cobwebs for added effect.
Step 8: Incorporate Halloween Props
Incorporate a variety of Halloween props throughout your garage to enhance the creepy atmosphere. Consider using life-sized skeletons, animatronic creatures, or eerie mannequins to create a sense of unease. Hang fake cobwebs, plastic spiders, or creepy cloth from the ceiling and rafters for an added touch of spookiness.
Step 9: Create a Dance Floor
Designate a space in your garage for dancing, and set up a sound system or Bluetooth speaker to play Halloween-themed music or classic party tunes. Add a disco ball or strobe light to create a fun and energetic atmosphere for guests to enjoy.
Step 10: Plan Halloween Activities and Games
Plan a variety of Halloween-themed activities and games for guests to participate in throughout the party. Ideas include bobbing for apples, a costume contest, pumpkin carving or painting, a spooky scavenger hunt, or Halloween-themed trivia. Set up designated areas in your garage for each activity, and provide any necessary materials or props.
Step 11: Set Up a Photo Booth
Create a Halloween-themed photo booth for guests to capture memories from the party. Use a backdrop featuring a spooky scene or Halloween motifs, and provide a variety of props 
and costume accessories for guests to use in their photos. Set up a camera on a tripod or designate a space for guests to use their smartphones to take pictures.
Step 12: Prepare Halloween-Themed Food and Drinks
Offer your guests a variety of Halloween-themed food and drinks to enjoy at the party. Prepare creative appetizers, snacks, and desserts that fit the theme, such as mummy hot dogs, graveyard dip, or spiderweb cupcakes. Serve festive drinks like witches' brew punch, pumpkin spice cocktails, or blood-red mocktails for non-alcoholic options.
Step 13: Ensure Safety and Accessibility
As you decorate and set up your garage for the Halloween party, ensure that the space is safe and accessible for all guests. Keep pathways clear, avoid using decorations that may pose a tripping hazard, and ensure that any electrical cords or cables are secured and out of the way. If you have guests with mobility issues, make sure there is adequate space for them to navigate the party comfortably.
Step 14: Add Finishing Touches
Before the party begins, add any final touches to your decorations and layout. Check that lighting and sound equipment are functioning properly, and make any necessary adjustments to the ambiance or decor. Light candles or add scented oils to create a mysterious, eerie atmosphere.
Step 15: Dress the Part
Don't forget to dress the part for your Halloween garage party! Choose a costume that complements the theme of the party or showcases your creativity. Encourage guests to arrive in costume as well, and consider offering prizes for the best or most creative outfits.
By following these steps, you can transform your garage into a haunted haven for a memorable Halloween party. With creative decorations, themed food and drinks, and engaging activities, your guests are sure to have a spooktacular time celebrating the holiday in your eerie, festive space.
How to Create an Eerie Garage for Your Halloween Party
If you want to throw a truly memorable Halloween party, you need to start with the setting. And what better place to set the scene than in your very own garage? With a little bit of imagination, you can transform this everyday space into a spooky haunted house. Start by covering the walls with dark fabric or black garbage bags. Then add some creepy decorations, like plastic spiders and bats. For an even more eerie effect, try hanging strings of fake cobwebs from the ceiling.
You can also use your garage to create a chilling atmosphere by dimming the lights and playing spooky music. Just make sure to turn off the overhead light so that your guests don't feel like they're in a car repair shop! With a little bit of effort, you can turn your garage into the perfect setting for a Halloween party that your guests will never forget.
5 Easy Ways to Decorate Your Garage for A Halloween Party
Halloween is the perfect time to turn your garage into a haunted house. With a little creativity, you can transform your garage into a spooky destination for trick-or-treaters. Here are five easy ways to get started:
Start with a fresh coat of paint. Black paint is perfect for creating a Halloween atmosphere. However, if you want to be really creative, use glow-in-the-dark paint to create an eerie effect.
Add some spooky props. Spider webs, skeletons, and bats are all great choices. You can find these items at your local Halloween or party store.
Create a foggy effect by hanging dry ice in strategic locations. This will add an extra layer of eeriness to your garage.
Lighting is key for setting the mood. String up some black lights, and place candles in lanterns around the room.
Make sure there's plenty of candy! No Halloween party is complete without treats. Set up a bowl of candy near your garage entrance, and ensure there's plenty for everyone.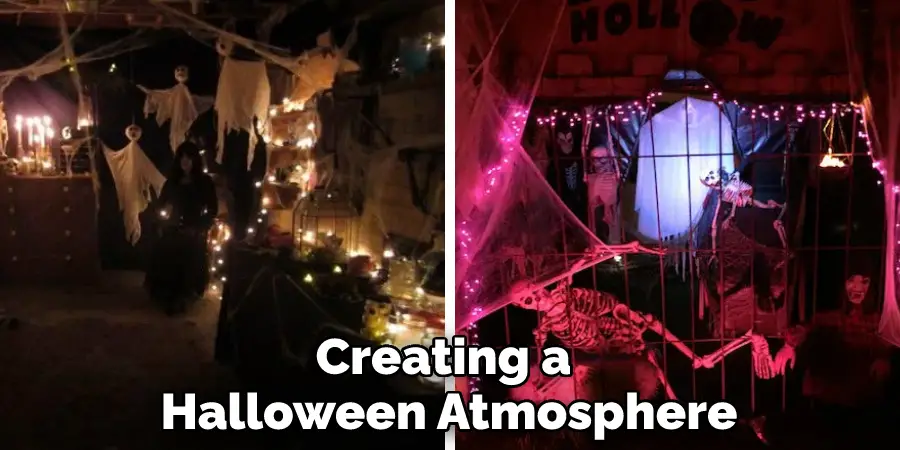 How to Turn Your Garage Into a Spooky Haunted House
Halloween is the perfect time to transform your garage into a spooky haunted house. With a little imagination and some DIY know-how, you can easily create a spooky space that will send shivers down your guests' spines. Start by removing all of the clutter from your garage. Then, add creepy lighting by stringing up old Christmas lights or placing candles in strategic locations.
Hang some fake spider webs in the corners, and consider adding some props like skeletons or ghosts. You can even create a haunted path by taping black garbage bags to the floor leading up to the door. By following these simple tips, you'll be well on your way to creating a truly frightening garage! Keep reading for more information about how to decorate a garage for a halloween party.
What Kind of Decorations Should Be Used for A Garage Halloween Party?
When it comes to Halloween, many people think of fun costumes, spooky decorations, and delicious candy. But what about hosting a Halloween party in your garage? If you're looking for some inspiration, here are a few ideas for decorating your garage for a Halloween party that will be sure to impress your guests. First, consider hanging some eerie lights from the ceiling. You can also string them along the walls or doorframes to create a spooky atmosphere.
Next, add some cobwebs and plastic spiders for an extra creepy touch. You can also Hang paper bats or ghosts from the ceiling or doorways. Finally, don't forget the pumpkins! You can carve them, paint them, or just leave them as is. They make great centerpieces and add a festive touch to any garage Halloween party. So get creative and have fun decorating your garage for a Halloween party that will be remembered long after the last piece of candy has been eaten.
How to Clean Your Garage After a Halloween Party?
Halloween is over, so it's time to clean up your garage! Here are a few tips to help you get the job done quickly and efficiently:
Start by sweeping the floor to remove any dirt, dust, and cobwebs.
Then, focus on cleaning up any spills or messes. Be sure to use cleaners that are safe for concrete floors.
Once the floor is clean, begin decluttering the space. Get rid of any Halloween decorations that you no longer need or want. Donated items to local charities.
Finally, organize your garage by putting everything properly. Hang holiday lights and other seasonal items on hooks along the walls. Use shelves and bins to store smaller items such as tools, sports equipment, and gardening supplies.
By following these simple tips, you can easily transform your garage from a Halloween disaster zone back into a tidy and well-organized space!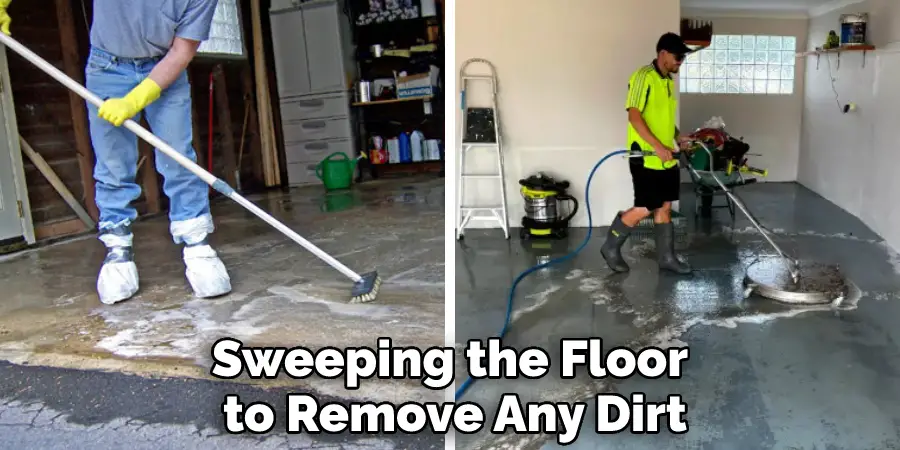 Conclusion
So, if you're looking for a few ideas on how to make your garage the perfect place for your next Halloween party, look no further! We've got some great tips for you that are sure to get everyone in the spooky spirit. Thanks for reading our post about how to decorate a garage for a halloween party.